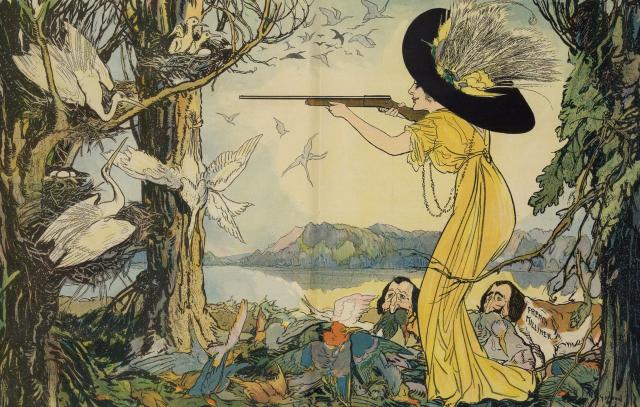 When social historian Tessa Boase told the Royal Society for the Protection of Birds she wanted to write their early story, they refused to let her visit their archives. To a former investigative journalist, this was a challenge she could not resist.
This lecture shines a light on the intriguing story of women's love affair with plumage – and of the brave eco feminists who fought back on behalf of the birds. Moving from a polite Victorian tea party to an egret hunt in a Florida swamp; from a suffragette 'monster rally' to a milliner's dusty workshop, you'll be taken back in time to a world where every woman, of every class wore a hat.
About the lecturer
Tessa is a freelance lecturer for The Arts Society along with other organisations such as the V&A, English Heritage and the National Trust. She's the author of two books of social history: The Housekeeper's Tale – The Women Who Really Ran the English Country House, and Mrs Pankhurst's Purple Feather – Fashion, Fury and Feminism, Women's Fight for Change. Her interest lies in uncovering stories of invisible women of the Victorian and Edwardian eras, revealing how they drove industry, propped up high society and manipulated politics. Tessa has an MA in English Literature from Oxford University, a diploma in Art History from the British Institute of Florence, and has enjoyed a long career in journalism for national newspapers and magazines.

Poster_2022_10_04_fashion_feathers-4.pdf (292 KB)
Date:
Time:
04.10.2022
19:00 Uhr
Location:

Alfred-Schnittke Akademie, Max-Brauer Allee 24, 22765 Hamburg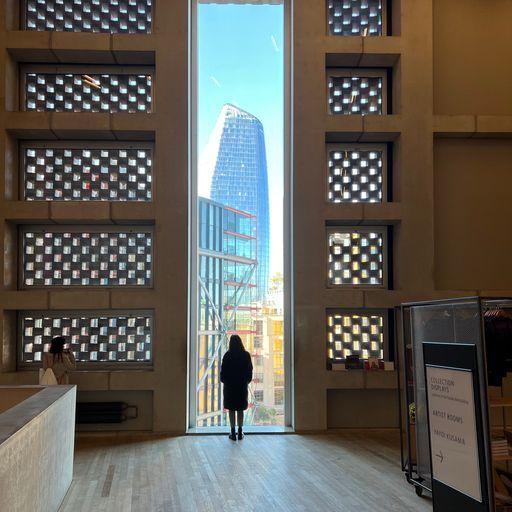 Tate Modern originally opened in 2000 but in June 2016 opened its doors to the stunning new Blavatnik Building immediately setting the new gold standard for museum design. This talk looks at the sleek new architecture and its engagement with the local environment and then follows the highlights of the collection, starting with Monet, Matisse and Picasso, continuing through the 20th century artists such as Bacon, Freud and Epstein and on to some international recent works. Some are easy to explain, and some are quite challenging. Some are profound, some are witty, some are whacky, but they all have a place. Tate Modern is the most visited modern art museum in the world and this armchair tour is a chance to explore the artworks without the crowds.
About the lecturer
A Londoner with a passion for art and architecture, Ian is an official guide at Tate Modern, Tate Britain, Guildhall Art Gallery and St Paul's Cathedral, and gives tours around each venue. He is also a qualified and active freelance London guide and leads regular tours for various corporations and organisations. Since 2012 he has led a popular weekly independent art lecture group in his home town of Richmond in West London. He is a Freeman of the Worshipful Company of Art Scholars, one of the City livery companies.

Poster_2022_11_08_tate_modern-2.pdf (274 KB)
Date:
Time:
08.11.2022
19:00 Uhr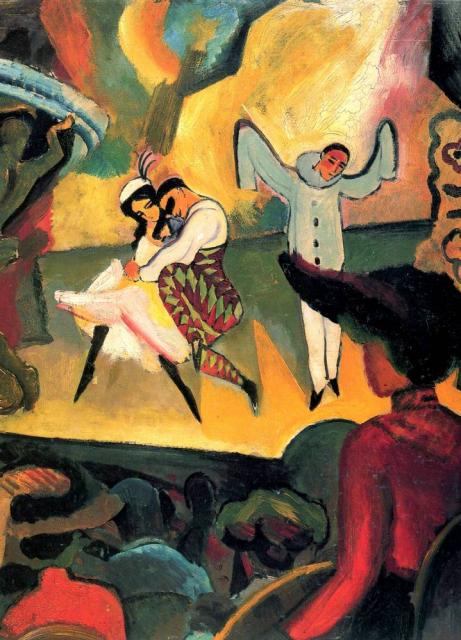 In this lecture we will explore how ballet is seen as the purest expression of every emotion, earthly and spiritual. The film Red Shoes evocatively portrays the beauty, wonder and grace of ballet where there is no art without sacrifice. Other key films such as Black Swan and Billy Elliot will be opened up for analysis. The most beautiful paintings inspired by dance will also be discussed. These include works by Toulouse-Lautrec, Degas, Knight and Oppler.
About the lecturer
John is an inspirational speaker who has delivered lecturers, workshops in the US (Texas, California, Massachusetts), Beijing, Malaysia and the UK. Initially trained as a painter, John was awarded the Max Beckmann Memorial Scholarship in painting in Brooklyn, New York and went on to be artist in resident for the state of Texas. Later in his career John produced and directed several short films and animations. He has taught film, art and pedagogy at the University of Exeter, Arts University Bournemouth, University Sains Malaysia, Southwestern College, California, Brunel University, London and Kingston University.
Technical note: We will try to have hybrid technology available for those of you who wish to attend on Zoom.

Poster_2022_12_14_ballet_in_film.pdf (320 KB)
Date:
Time:
14.12.2022
19:00 Uhr
Location:

Vortragsraum (first floor) Staats- und Universitätsbibliothek Von-Melle-Park 3, 20146 Hamburg